Run an entire city during natural disasters or support day-to-day operations for businesses and workers in the field.
Vehicles
Mobile Command Vehicles range in size from SUVs and Sprinter vans to heavy duty self-propelled chassis with multiple slide outs.
Trailers
Mobile Command Trailers add flexibility. Once a trailer is deployed, the towing vehicle can leave the scene to respond in other areas.
Containerized Solutions
Containerized Solutions are a flexible platform for diverse applications, from Utilities to Defense and more.
Choosing a Platform
While Nomad will guide you through the planning process, factors to consider when choosing a mobile command center include:
Budget
What funding options are available to your organization?
Communications
What type of communications do you need (voice, data, video)?
Interior Space
How many people will be working inside?
Storage
Will the unit be stored inside or outside?
Terrain
Will the unit be travelling off-road?
Operator
Who will be deploying and operating technology in the unit?
See how the U.S. Army Corps of Engineers uses their mobile command center. (USACE video by Brooks O. Hubbard IV)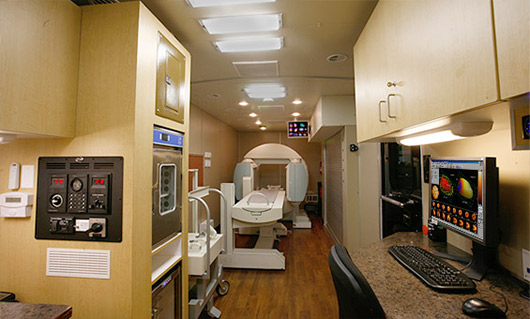 Custom Designs
Nomad works closely with each client to provide unique solutions to complicated challenges.
Unit layout options include computer-equipped workstations, conference rooms, radio dispatch rooms, laboratories, galleys and bathrooms. Nomad has a strong history of designing vehicles and trailers that improve operational capabilities and extend network communications. Advanced technology options allow voice, video and data communications to be used in remote areas through satellite, radio and microwave systems.