Fire-Hazmat

Every Minute Matters in fire-rescue and all-hazards response. Nomad's custom Hazmat and Decon solutions are purpose engineered to ensure your department has the right tool for every job.
Mission Driven Layout Options
Every Nomad Hazmat and Decon Trailer has been purpose engineered to allow your team to work faster and more reliably.
Configured specifically to efficiently store specialized equipment, suits, overpack drums, and various decontamination equipment, Nomad Hazmat and Decon trailers are the best engineered solutions on the market. Portable Decontamination Station Options:
Changing Room
Wash Bay
Decon Bay
Utility Room
Laboratories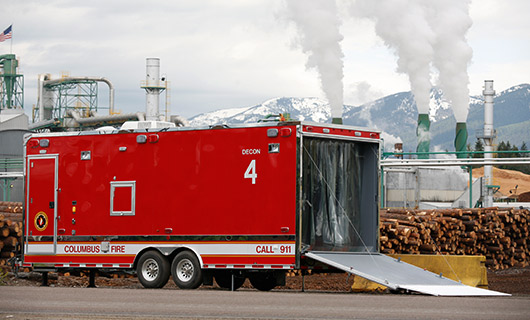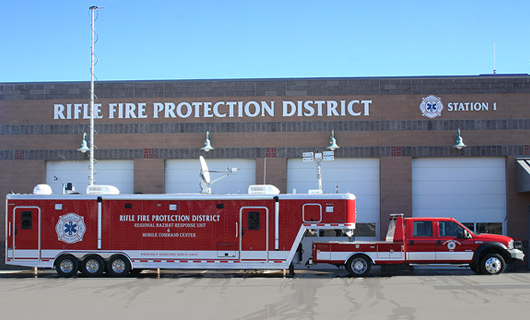 Rifle County Hazmat Trailer
Nomad developed and manufactured a custom 40′ trailer and truck combination Hazmat / Technical Rescue / Command Unit for the Rifle Fire Protection District.
This unit was built to support Rifle personnel when responding to a variety of emergency incidents. The main body of this unit is separated into 2 primary sections consisting of a forward Command Area and rear Walk-In Rescue Body.
Communications Options
Satellite Communications
Audio & Video Equipment
Specific Air Quality Monitoring Equipment