Crime Scene

Every Minute Matters when it comes to processing a crime scene. A quick response is crucial in the preservation of physical evidence. Nomad has the right quick response solution to help you close the case in looking for your custom complete crime scene evidence collection solutions.
Vehicle Benefits
All of our units are available on a variety of different chassis & trailers.
Exterior access to specific equipment, with on-board laboratory accommodations conference areas can be designed for interviewing suspects or operational planning.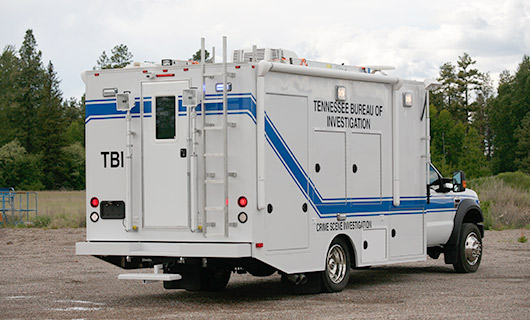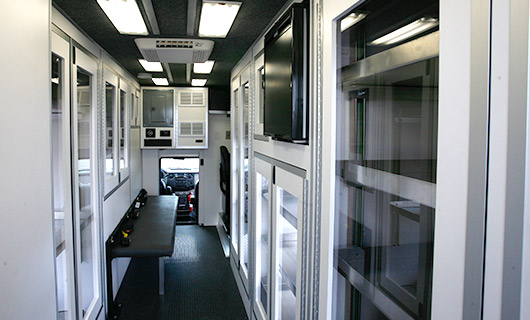 Design Options
Lockable Compartments for Securing Evidence
Areas for Evidence Processing
Customized Evidence Collection Kits (i.e. GSA, DNA Kits, Sketch Kits, etc)
Complete "Turn – Key" Solutions
Communications Capabilities
Surveillance Cameras
Crime Scene Mapping
Video, Audio, Back to local Crime Lab (Live Streaming)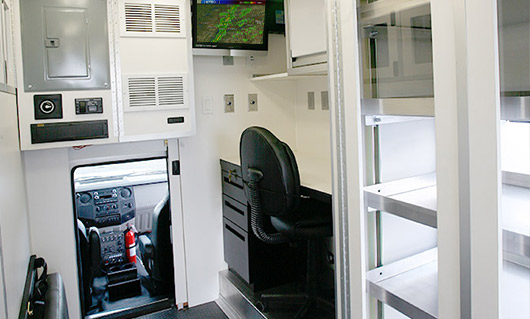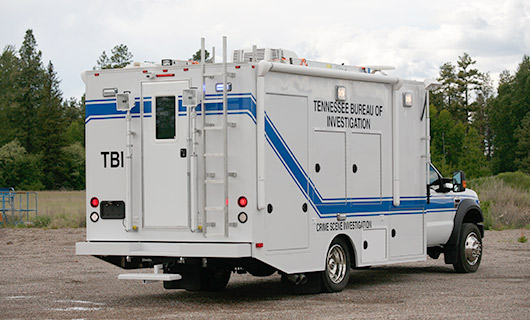 Case Study: Tennessee Bureau of Investigation
Industry
Public Safety
Crime Scene
Analysis
The quality of evidence gathered at a crime scene is dependent on the forensic equipment and materials available on site. In order to process physical evidence at crime scenes faster, the Tennessee Bureau of Investigation (TBI) required a mobile crime unit that would provide:
Secure Storage accessible from inside and outside vehicle.
Exterior lighting for working outside in the dark.
Solution
Chassis
Exterior

Two (2) 12V Awnings
Pull out Table
Exterior Lighting Package
HVAC System
Auto Leveling System

Interior

One (1) Workstation
Interior Lighting Package
Custom Aluminum Cabinetry
Washroom
Galley

Technology

Radio Communications Package
Audio/Video System
Will-Burt Light Tower
20A Shore Power
One (1) Onan 8KW Generator
Results
The TBI Crime Scene Unit allows detectives to efficiently and securely gather evidence for large scale crimes. Designing a vehicle with extra storage space allows workers to collect and catalog an entire scene at one time. For investigations that last days or weeks, parking the mobile crime lab on site saves time by allowing workers to perform on site testing and not having to transport evidence back to a lab.
What would you like to do next?