Education

Mobilize your training mission with a mobile education solution. Mobile Classrooms assist local communities, universities, healthcare providers, workforce development offices and additional outreach programs in providing services to underdeveloped areas, as well as underserved populations.
Vehicle Benefits
A Mobile Education Vehicle allows officials to provide educational services in the same fashion as if they were utilizing their own home offices.
The range of services offered in a mobile environment includes educational courses, health awareness, employment services, wellness, trainings, professional assessment and promotion to rural and/or underprivileged communities worldwide.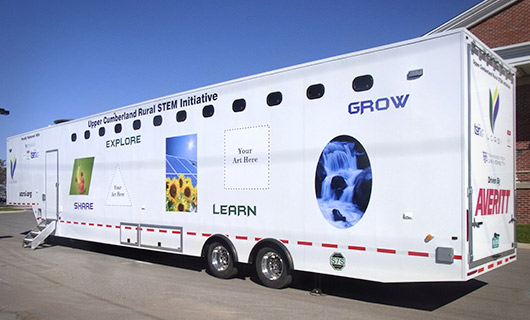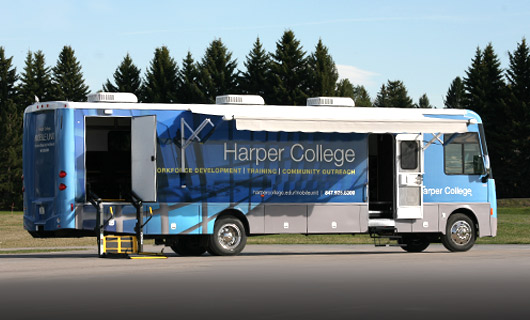 Design Options
Nomad works closely with each client to provide unique solutions to complicated challenges.
Unit layout options include computer-equipped workstations, conference rooms, radio dispatch rooms, laboratories, kitchens and washrooms. Advanced technology options allow voice, video and data communications to be used in remote areas through satellite, radio and microwave systems.
Communication Capabilities
Multiple Presentation Screens
Exterior Workstations
Audio/Video Systems
Video Conferencing
Nomad Total Control
Voice, Video and Data Interoperability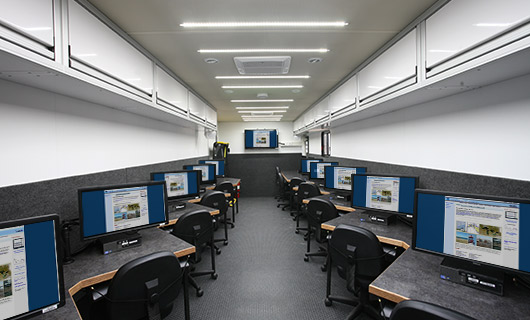 STEMmobile: A Catalyst for Learning in Rural Regions
Fifty-three feet of science sits in front of the K-8 Celina School. Twenty fifth graders shuffle around inside, zealously conducting experiments on stainless steel countertops under flat screen TVs. Celina, a town smaller than the student body of some Tennessee high schools, is tucked away in the serene Cumberland mountains. That is exactly why the Upper Cumberland Rural STEM Initiative decided to park $350,000 worth of science equipment in front of the building.
What would you like to do next?