Nomad Atlas: Your Procurement Roadmap
Nomad Atlas breaks mobile operations procurement into five easy-to-understand phases. Follow the map, achieve success. We'll be with you every step of the way. Ready to get started? Jump in at the links below. Need some basics? Check out the Overview Page
Phase Two // Evaluate + Get Inspired
Phase two of procurement is about clarifying the purpose of your mobile operations solution, which ultimately will guide you to the best platform. We'll spend time ensuring you understand purchasing mechanisms and are able to move forward with finance. You'll have tools to effectively assess potential vendors, apples-to-apples.
01_Clarify the Vision
Would you attempt a complex home improvement project bit-by-bit over time, without an idea of the desired outcome and a strategy to take you there? If you did, you might get lucky. But chances are, your result would be incongruous, or a critical component would be incompatible. Similarly, you may consider mobile operations platforms and options as separate pieces. Now's the time to think holistically, collaborating on a vision for a fully integrated solution.
A good starting point is to look at past projects. Ask others what performs well, what they like, what surprised them, and what they would do differently. Nomad can also provide historical perspective and share the challenges and wins experienced by others.
While learning from the past, it's also vital to think progressively. Someone else's best solution may not be yours. Think long-term, to an end product that will serve its mission now and into the future.
CUSTOMER STORY // A sheriff's office was in the market for a 30-foot mobile command unit. After seeing the smaller and more nimble Nomad TCV (Tactical Command Vehicle), the agency changed direction, working closely with us over the course of a year to spec and build a right-sized solution. The project has been a success by every measure. Takeaway: Challenging assumptions leads to breakthroughs.

02_Understand Financing
Before proceeding to detailed specs, you need to know how much money is available and the source of the funds. Your purchasing mechanism might include just one source or a combination of private lenders, grants, cooperative contracts, and state-specific assistance. The waters can get murky, but Nomad will work with you to understand the options and develop a path forward. Our experts even offer grant-writing services to assist with this nuanced process.
HAZARD // Grant applications can be denied for many reasons. Here are the essentials to know: Clearly define a need, demonstrate thorough analysis, itemize costs, and follow directions with attention to detail. Bonus points are often found in the human side of the story. Answer, "How does this serve an unfulfilled need, and who benefits?"
03_Evaluate Partners
Most people will not choose a restaurant at random then try to find something appealing from the menu. The process is more likely along the lines of, "I'd like a steak. Who fixes the best steak, nearby, within my budget?" In the same way, a mobile operations solution is about what you need, not what any given provider offers as "standard issue." It's an important distinction.
You'll want to work with a partner who has a stable business, high standards of quality, and exceptional service levels. Research should start early, even if the project will eventually go to bid (competitive solicitation). Consult a cross-section of candidates, stay open to the idea of new players and non-traditional solutions, and consider the "lifetime value" of a partner who continues to serve after the sale, and will grow and innovate with you.
04_Engage Your Team
Continue to involve internal stakeholders in the process as it evolves. It might be helpful to develop a framework for these relationships, which will help you communicate in the way (and with the frequency) that serves peoples' individual needs and the project as a whole. See an example of this type of "engagement matrix" at right.
05_Summary
A strategic, analytical procurement approach will serve the project well as you establish financing, look at potential partners, and give more shape to the project. You'll stay armed with the information to satisfy all stakeholders at any time.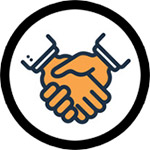 HANDSHAKE // To close phase two, you will confirm your short list of partners. If Nomad is among them, we'll develop a project ROM (Rough Order of Magnitude) and proposal. Explore Nomad Atlas further…
1: Assess // 2: Tour // 3: Launch // 4: Accomplish // 5: Support
In this always-on world, how can mobile operations benefit you and those you serve?