Nomad Atlas: Your Procurement Roadmap
Nomad Atlas breaks mobile operations procurement into five easy-to-understand phases. Follow the map, achieve success. We'll be with you every step of the way. Ready to get started? Jump in at the links below. Need some basics? Check out the Overview Page
Phase Three // Commit to the Project
In phase three of procurement, your vision begins coming to life. You select and commit to the best-aligned partner, then collaborate to finalize the platform, options, timelines, and purchasing mechanisms for your mobile operations solution. You award the contract, approve final drawings, and move to production.
01_Select Your Partner
Having carefully researched potential mobile operations partners, you'll likely fall into one of three camps: 1) There is a clear choice and you're ready to commit, 2) There's a front runner but you have reservations, or 3) There is a short list. In the latter two cases, weighted scoring can be useful in identifying the partner who is best-aligned with your needs. Create a matrix of criteria, both subjective and objective, assign importance (weight) to each, then grade your candidates. The more meaningful criteria included, the more instructive your results will be.
Depending on your stakeholders and internal processes, price may or may not be weighted. If it is, take care to watch for unrealistically low offers, and consider including long-term value items (such as service and warranty options) in your matrix. In these final stages of partner selection, ask contenders as many questions as come to mind. Ask for references. It's the most critical decision of your project, and a well-aligned partner will be responsive to thorough vetting.
CUSTOMER STORY // A city in the Southeast was procuring a shared mobile operations asset. Through numerous rounds of selection, Nomad emerged the clear front runner. There was some hesitation, as several other specialty vehicle manufacturers resided closer to the customer. The purchasers visited Nomad, and over the course of several days came to understand that the talented team, attention to quality, and service after the sale eclipsed any benefit that might have been offered by the other builders' proximity. Takeaway: Don't focus too tightly on any one measure. Consider the whole view.
02_Shore Up the Details
From this point forward, let's assume you've decided to partner with Nomad. Fantastic! With a verbal commitment or Letter of Intent, plus acceptance of the Rough Order of Magnitude (ROM) proposal and drawings, it is time to finalize the details. This "pre-production" phase will sometimes entail one or more on-site visits to tour the facility, meet your team, and develop comprehensive project specifications. Funding will be finalized and verified, and timelines will be established. Bear in mind that the average mobile operations project takes between 120 and 180 days from pre-production to delivery. As you've done throughout the procurement process, keep your stakeholders in the loop and set realistic expectations for this timeline and other milestones.
HAZARD // Beware of schedule and scope creep. Understand the time it will take to gain consensus among stakeholders, get approvals, and obtain legal opinions. Clearly define and document the breadth of the project, and prepare to either defend against or accommodate last minute additions or changes.
03_Award + Approve
If it has not been settled already, complete your negotiations, agree on Terms and Conditions, formally award the contract, and submit a signed Purchase Order along with any required payment. Your Nomad Sales Executive will remain engaged throughout the construction process (and beyond), but at this time transitions many production tasks to the Project Management team. Initial engineering drawings will be developed for your review and, on approval, the project will be slotted into the build queue. You're off to the races!
04_Summary
The importance of finding a trusted, well-aligned partner for your mobile operations project can't be overstated. Extra time spent here, especially gaining stakeholder buy-in, goes a long way toward avoiding deal-stalling potholes down the road. Similarly, attention to detail and consensus with the contract will minimize delays.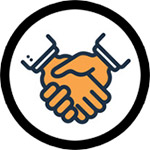 HANDSHAKE // To close phase three, we will establish a plan for ongoing communication during the build. We'll begin collaborating on delivery and training plans. Explore Nomad Atlas further…
1: Assess // 2: Tour // 3: Launch // 4: Accomplish // 5: Support
In this always-on world, how can mobile operations benefit you and those you serve?